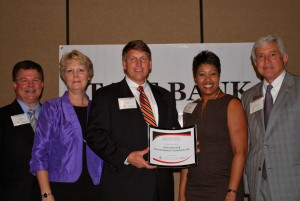 In 2011, the Macon Chamber of Commerce named GEC the 2011 Small Business of The Year in the Professional Services category. Presenter Dan Forrester with State Bank and Trust said, "Our winner today is a mainstay in our community with the many charitable organizations that they sponsor. The list on their entry package took up a whole page…single spaced. This company promotes a family environment for all of their employees as it helps maintain balance in their lives, which promotes attendance and increases productivity. On the 10th anniversary of the company, a 10-10-10 program was instituted. The employees were asked to donate 10 hours of service for a Habitat for Humanity home and the company provided a donation of $10,000 to the homes in Lynmore Estates."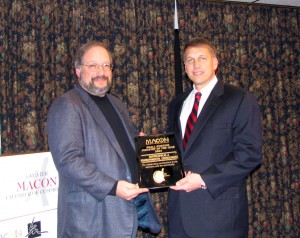 GEC also received the Small Existing Business/Industry Award from the Macon Chamber of Commerce in 2005. At the annual meeting, Presenter Steve Kruger (chair of the Macon Economic Development Commission) said, "Their professional staff are leaders in the community, donating their time, knowledge and resources to over 22 civic groups, professional affiliations and charitable organizations. The company's leadership sets the standard for involvement by encouraging its employees to not only get involved but also to serve in leadership roles."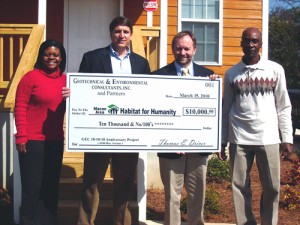 GEC has a significant number of employees that participate in various professional and civic/community organization, as well as the local Chamber of Commerce. This is a very important aspect of GEC, one which allows us to return thanks for allowing GEC to be successful in a profession and community that we love. Involvement in professional organizations not only keeps our staff on top of new technology and new regulatory issues in our industry, but it also allows us to meet fellow professionals that we can possibly team with on projects. Our participation in community organizations enables us to be "part of the community", to learn abut upcoming projects or activities, and to develop relationships with other business/professionals who may need our services in the future.
The company and its personnel have been and are still involved in many professional, civic and community activities. These include such diverse organizations as:
Chamber of Commerce – Columbus, Macon, Laurens County, Bleckley County, Phenix City, Milledgeville, Lagrange-Troup County, Newnan-Coweta County, Harris County and Warner Robins
Macon Chamber Board of Directors
Columbus Chamber Board of Directors
Macon and Columbus Board of Realtors
Leadership Macon and Columbus
American Heart Association
Tubman Museum
United Way Board of Directors
Navicent Health Foundation
Habitat for Humanity Board of Directors
American Cancer Society
Mercer University Career Day & Internship Program
Mercer University National Engineering Advisory Board
Rotary International
Georgia Society of Professional Engineers
American Institute of Professional Geologists
Society of American Military Engineers
American Society of Civil Engineers
Capital City Bank Community Board of Directors
Georgia Onsite Wastewater Association
Georgia Geological Society
American Society of Testing Materials
Georgia Affordable Housing Coalition
Association of General Contractors
American Concrete Institute
Georgia Water & Pollution Control Association
Solid Waste Association of North America
Georgia Mining Association
Keep Columbus Beautiful Board of Directors
Contact GEC for more information about a company that is involved in the community.